BOOK A TAXI TO Chamarel 7 Coloured Earth

Opening Days: All days except sundays
Opening hours: 8:30am - 5:00pm
Transport: Offered as supplement ~ view transport rates
Vehicle options: Large Cars, Minibuses (3 sizes), Coaster-Buses, VIP Cars & SUVs
IMPORTANT NOTICE
Entrance tickets need to be purchased on the spot. Your friendly driver will provide all the necessary assistance once you reach the venue. Please note that some activities at the venue may require advanced booking.
For further information, kindly visit the park's official website or contact the reservation team by phone on +2304834298
LET US TAKE YOU SAFELY TO Chamarel 7 Coloured Earth
This place features in our 7-hours private south sightseeing tour.
Red, brown, violet, green, blue, purple and yellow. An almost surreal, lunar-like spectacle of rainbow-hued sand dunes unfolds before your eyes, leaving you utterly mesmerized. Set in the middle of lush green vegetation, this unique geological oddity is one of those amazing creations of nature that just make you go "Wow".
The undulating strips of multi-colored sand that spontaneously settle in different layers are one of the most photographed and visited sights on the island. They sit in an open clearing whose lower edge is skirted by an endemic plant garden highlighting the natural heritage of Mauritius. On the upper edge, spectacular views of a vast amphitheater of ravines clothed with luxuriant tropical vegetation and a glimpse of the picturesque Chamarel Waterfall in the distance.
Open all year round from 8.30 am to 5.30 pm in summer and 5 pm in winter, the Geopark is a must-see attraction for curious minds of all ages. Among other things, there is also a fun and interesting Tortoise Park and a Souvenir Shop offering an array of memorabilia, including local products from Chamarel while the Coffee shop is a happy café experience.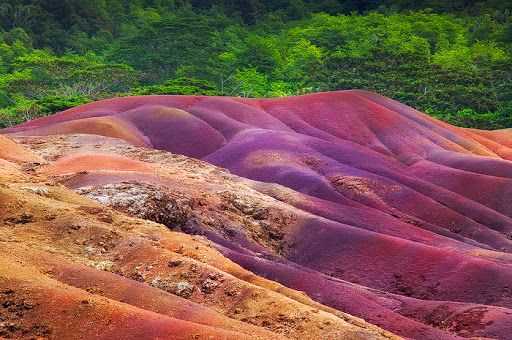 We provide reliable round-trip transportation to Chamarel 7 Coloured Earth at affordable rates. You can have a glimpse of our taxi prices below. Please use the quote request feature to send us the number of people travelling & your pickup location. Our team will get back to you within some hours with the requested information. No hidden fees ; you only pay what you have been quoted for.
Terms & Conditions
This is a round-trip chauffeur service to Chamarel 7 Coloured Earth from any accommodation in Mauritius.
Transport is charged per vehicle, not per person.
Entrance tickets (approx. €8 p.person) should be purchased on the spot. Your driver will provide the necessary assistance once you arrive at the venue. Please remember to keep sufficient money with you (local currency) to buy the entry tickets.
A waiting time of 5-hours will be included in the transport price that will be quoted to you.
Pay-online via Paypal. Existing customers can request to pay cash directly with the driver in MUR, EUR or USD.
The first child seat ordered is FREE of charge. Any additional seat ordered is €10 per seat. You can also bring your own.
If you would like to visit other places along the way, please make sure to mention it at the time of booking. The driver may have other rides already scheduled after your trip and his time might be limited if not planned beforehand.
Free cancellation: Obtain a full refund if you paid online in advance & you wish to cancel the taxi at least 24 hrs prior to the trip.
Please book your activities directly with the venue. We are only providing transport to this venue at this time.
REQUEST A RIDE TO
Chamarel 7 Coloured Earth
HOW IT WORKS
Request a quote. Expect a same day reply by email.
Once you confirm the quote, a confirmation email & an e-voucher will be sent to you.
You can present the voucher to the driver either in printed or via your mobile.
In the event that you do not receive an email from us after booking, please check your Spam folder or notify us via email.
You will receive your driver's contact details by email at least a day before your scheduled tour.
Meet your driver on-time at your hotel reception or residence. Please always inform your hotel in advance about his arrival so as to avoid any delays at the hotel entrance.
YOU MAY ALSO LIKE
Other Places to discover near Chamarel 7 Coloured Earth