45 INCREDIBLE PLACES TO VISIT IN MAURITIUS
..there is so much more places to visit in Mauritius than just the beach!
The 45 Top-Rated Tourist Attractions in Mauritius Island
1. Trou Aux Biches
Trou-aux-Biches is a public beach on the northern coast of Mauritius in the district of Pamplemousses. A white sand beach and casuarina trees shaded by a two-kilometre stretch of white sand, snorkelling reefs, boutique shops, a supermarket, and other facilities are provided along the beach to cater to tourist needs. Trou aux Biches is one of the most popular diving spots in Mauritius. One of the best places to visit in mauritius island.
2. Belle Mare Plage
Belle Mare Beach can be found on the southeast coast of Mauritius, close to the town of Mahébourg. The turquoise lagoon fades into turquoise crystal-clear water and ends on the pristine white sand beach surrounded by casuarina trees. For enthusiasts of water sports, Belle Mare Beach is home to many water activities such as tube riding, parasailing, and an undersea walk.
3. Ile aux Cerfs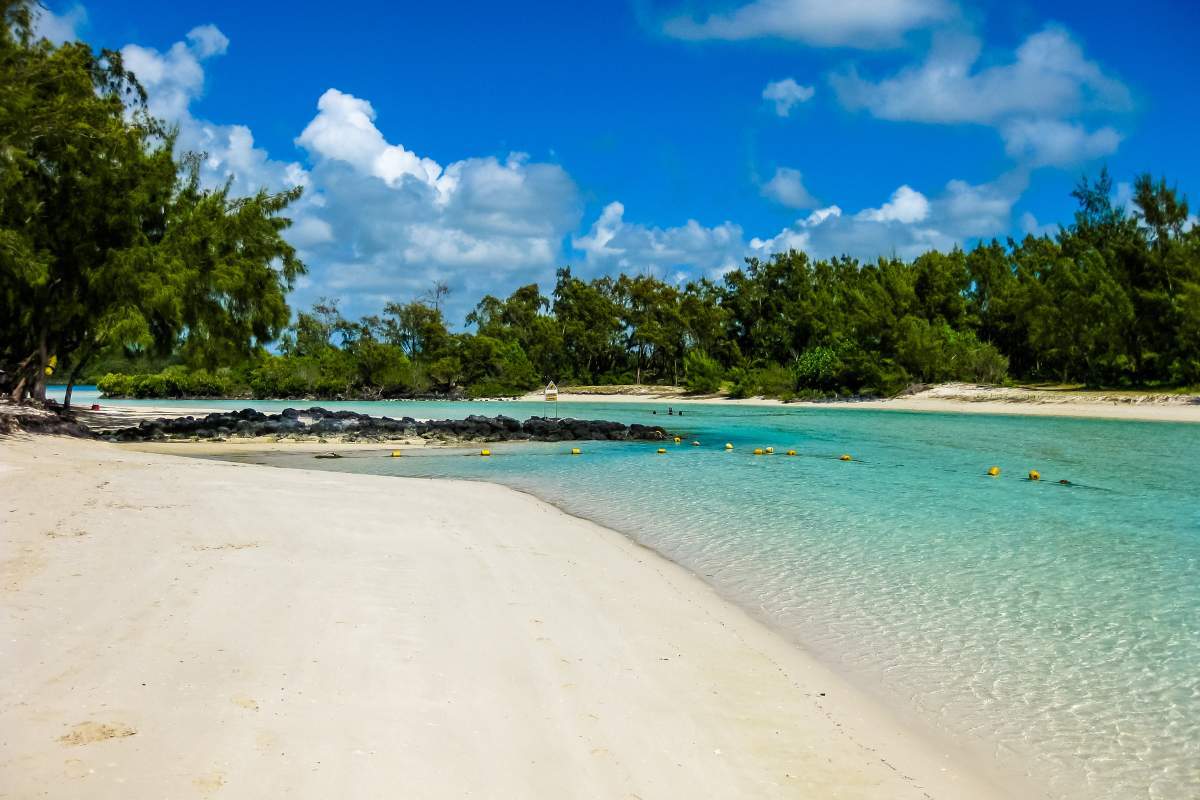 Ile aux Cerfs is a picturesque island off the east coast of Mauritius. This island is renowned for its white sandy beaches, and turquoise lagoons. In addition, it is also known for its wide range of restaurants and water activities such as parasailing. It also has one of the world's most picturesque golf courses, the Ile aux Cerfs Golf Club, designed by two-time Masters champion Bernhard Langer. The island is accessible by speedboat or catamaran.
4. Pereybere
Pereybere Beach can be found along the coast road between Grand Bay and Cap Malheureux. As you stroll along the Pereybere coast, you will find many typical restaurants and lively bars. With its clean white sands and clear blue waters, the beach itself is a sight to behold. The entire stretch of this beach is lined with palm trees and there are several beach shacks serving food.
5. La Cambuse
In the southeast of the island, La Cambuse Beach is a picturesque beach surrounded by abundant and unspoiled nature. Definitely one of the best places to visit in Mauritius. It is one of the most popular beaches on the island. Even though the beach is lovely for dipping into cold water, it's not exactly ideal for swimming, especially for children, as it's close to an open reef.
6. Le Morne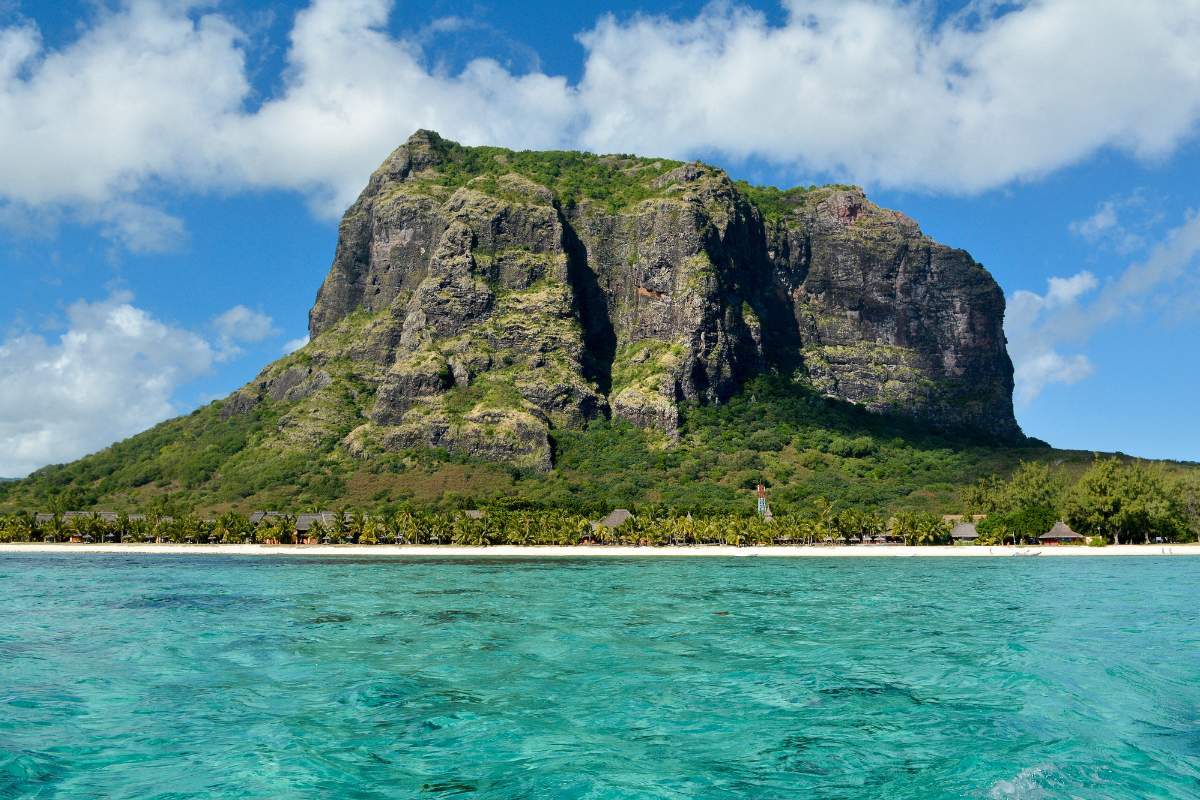 Le Morne Beach is located at the foot of the majestic Le Morne Brabant mountain. This mountain is a World Heritage Site by UNESCO and is known for its picturesque white coral sand and clear water ideal for swimming, snorkelling, or even scuba diving. The wind conditions on Le Morne beach make it a suitable place for kite and windsurfing almost all year round
7. Ilot Gabriel Beach
Off the northern coast of Mauritius, Ilot Gabriel is famous for its catamaran cruises, and for its water sports activities such as snorkelling and scuba diving. The island can be easily reached by boat or catamaran either from Grand Bay or Pereybere. The island is a great place for picnics and camping with friends and family. One of the best places to visit in mauritius island.
8. Chamarel Coloured Earth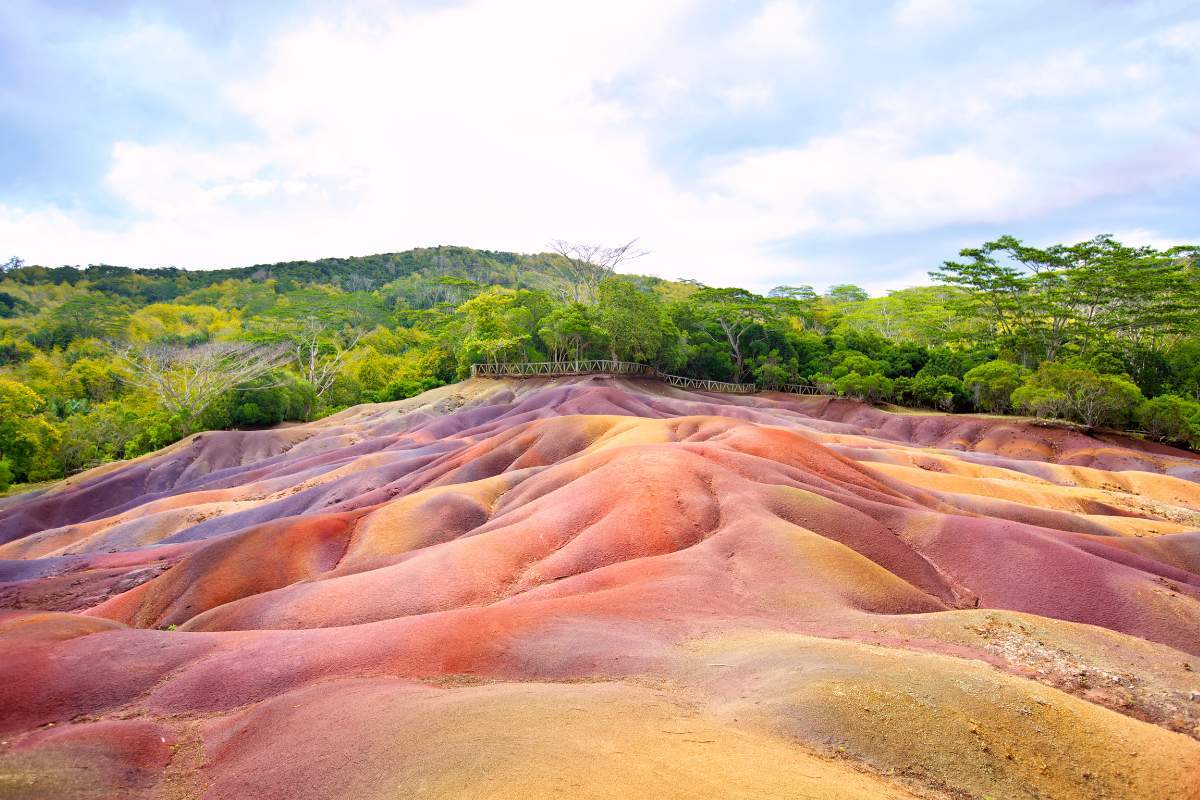 La Vallee Des Couleurs is a famous Nature Park in Mauritius. The discovery of the land of 23 colours in the late 90, displayed in strips and domes in the field, is a unique geological feature in this park. There is an array of activities for wild-hearted explorers, from zip lines (the longest zip line in the Indian Ocean) and hiking routes to quad biking and a Nepalese Bridge.
9. La Cuvette Beach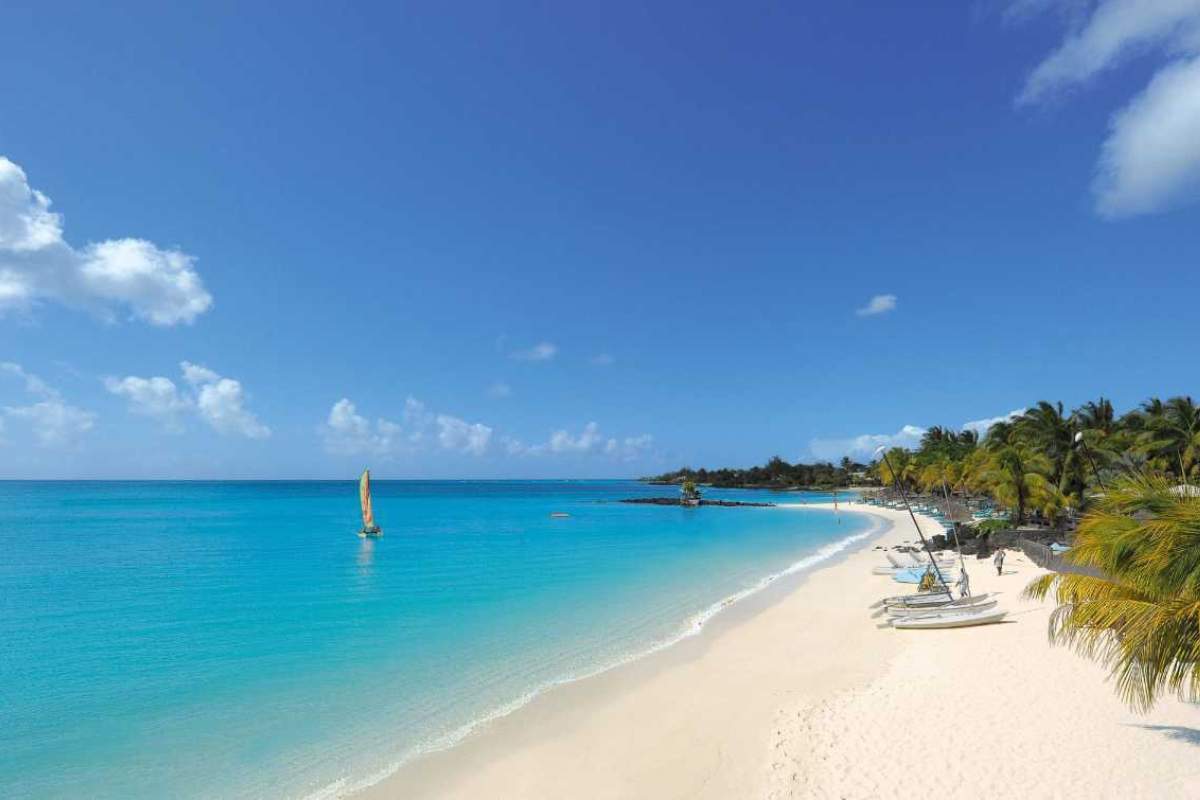 La Cuvette is a small, intimate beach in the middle of the busy town of Grand Bay. This beach is a must-visit place for photography enthusiasts since the lagoon is sheltered from the wind by the bay, which makes the beach a must-visit for photographers. There are several local restaurants selling drinks and snacks along the beach.
10. Flic En Flac Beach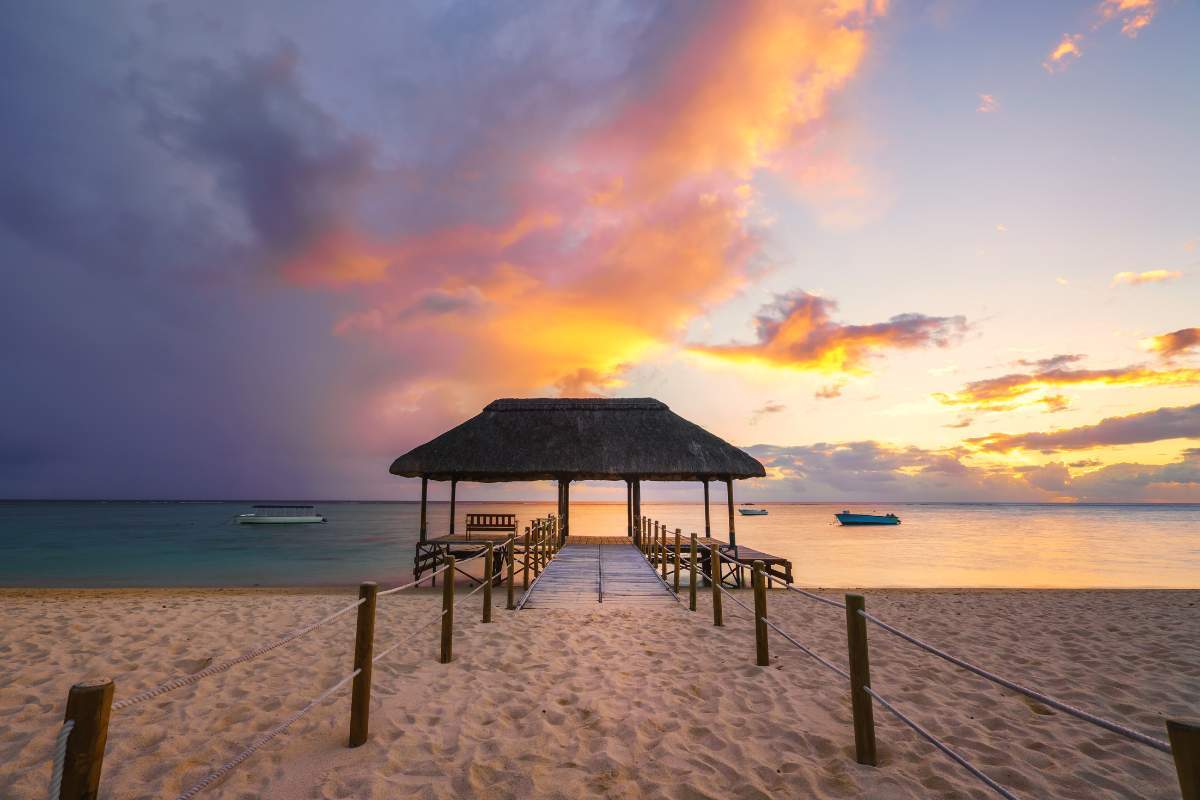 Located along the West Coast of Mauritius, Flic En Flac has become the second largest tourist destination after Grand Baie. You will be able to enjoy white sand beaches and gorgeous blue lagoons. The long beach boasts a number of restaurants, hotels, shops, and centres that are all located along the beach. It is also one of the ideal places to witness magical sunsets.
11. Mont Choisy Beach
Mont Choisy Beach is located in the northwest of Mauritius. Mont Choisy beach is perfect for a day at the beach with the whole family. You will not feel cramped at all on a beach this large. There are many quiet spots along the coast where you can enjoy lunch or a walk along this beautiful beach.
12. Poste Lafayette Beach
Poste La Fayette is one of the most beautiful places to visit in Mauritius. It lies between Roches Noires and Belle Mare on Mauritius' east coast. The area is suitable for picnics, where you can enjoy some time with your family and friends. This beach is a suitable choice for anyone who loves kite surfing and windsurfing and must be careful while swimming in this rough sea.
13. Black River Gorges National Park
The Black River Gorges National Park is located in the South-West of Mauritius. The park got its name from the dramatic curves between a series of stunning mountain ranges, as countless waterfalls flow from the hillsides. Famed for not just its unique wildlife, the gorge also offers spectacular views and waterfalls, making it an absolute must-visit experience on a trip to Mauritius.
14. Casela World of Adventures
As one of the island's most popular attractions, Casela offers a unique experience for nature lovers and families alike. With thrilling activities like the Safari Quad and Canyon Swing, as well as other activities like the Pangia ride and kids' ride, you can indulge in a variety of adventures. Casela Nature Park gives you the opportunity to witness nature and wildlife at its finest.
15. Trou Aux Cerfs
Trou aux Cerfs' crater, located at Curepipe, is surrounded by a lush forest surrounded by indigenous plant species and massive green pine trees. Trou Cerfs erupted once and has been dormant for 700 000 years. One of the main highlights is the 360-degree panoramic view of Curepipe and the majestic Rempart Mountain, Trois Mamelles, and Port-Louis-Moka mountains.
16. Tamarind Waterfalls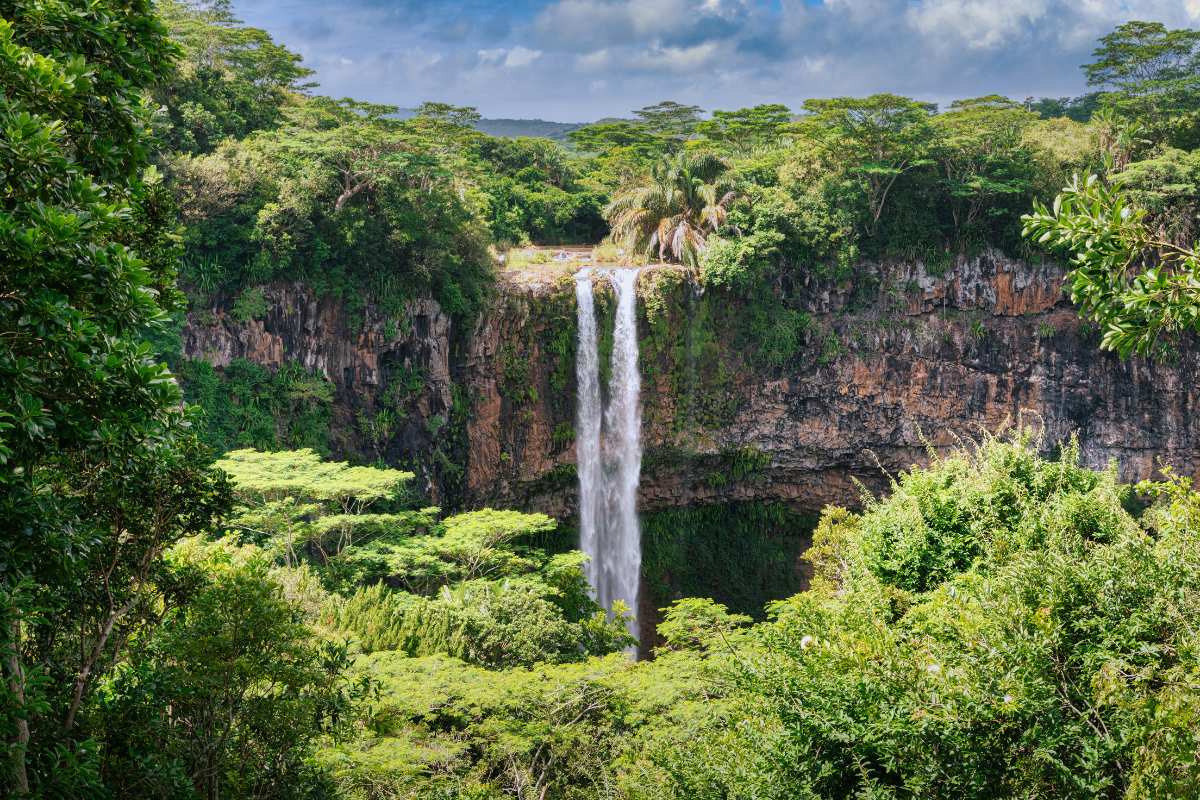 Tamarind Falls (also known as 7 cascades) is a popular attraction in the southwest of Mauritius. Tamarind Falls boasts 11 waterfalls, several jumping cliffs, deep ponds, and lush green vegetation, making it one of the most scenic canyons on the island. At the bottom of the series of seven falls, you can take a cool bath under the waterfall. Surely one of the coolest places to visit in Mauritius island.
17. Sir Seewoosagur Ramgoolam Botanical Garden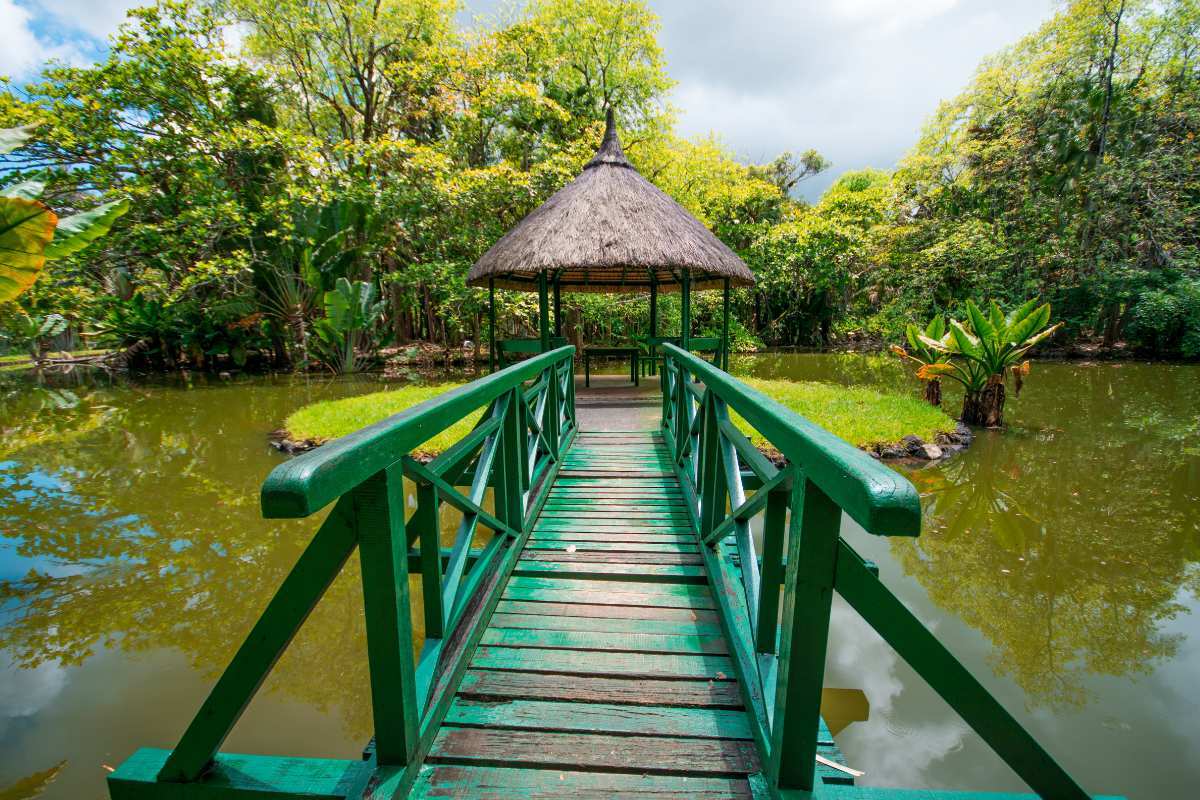 Located in Port Louis, the Sir Seewoosagur Ramgoolam Botanical Garden (SSR Botanical Garden) is the largest Botanical Garden in Mauritius. The SSR Botanical Garden is home to many native plants and trees you won't see anywhere else. Another attraction for visitors is the giant water lilies in the huge pond. The garden is home to diverse fauna including tortoises and turtles, deer, fish, birds, and bats.
18. Rochester Falls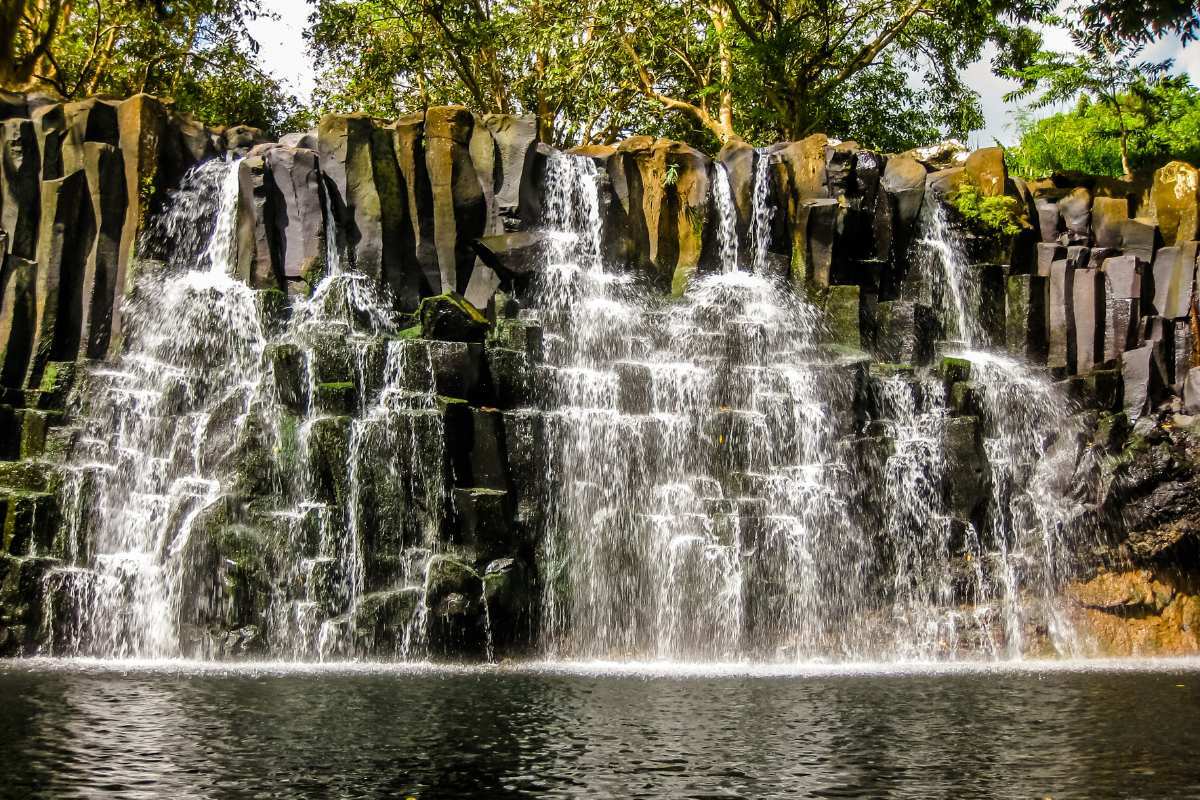 The iconic Rochester Falls is in the Savanne district of Mauritius and is also the widest waterfall in Mauritius. The waters of this mesmerizing waterfall cascade over rectangular flanked rocks. With its breathtakingly scenery and cascading waterfalls, it is a wonderful sight to behold. It is a pleasant place to have a picnic or take a quick dip in the waters.
19. Marie Reine de la Paix
Built on the slope of Montagne Signaux, the shrine of Marie Reine de la Paix is an open-air church offering a stunning panoramic view of Port Louis. There are 82 steps that will take you to the top of the building with a magnificent view of the southern part of the city. A famous mass was held there by Pope Francis during his Apostolic visit to the island in 2019.
20. La Vanille Nature Park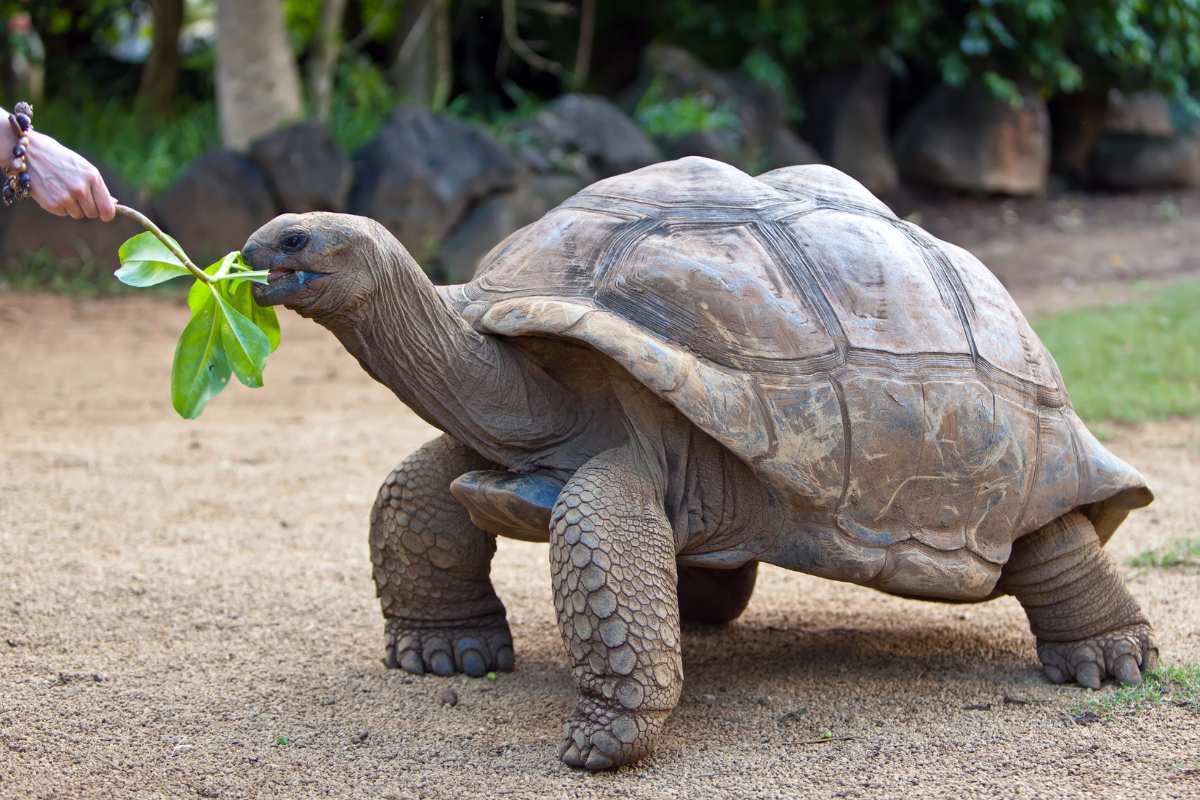 La Vanille Nature Park is a reserve located in the south of the island, which has been in existence since 1985. It is committed to the preservation of nature and the welfare of the different species of animals and plants that reside in the park. Moreover, the park is also home to a reserve, museums, and shows, among others, that serve as entertainment and educational activities.
21. Gris-Gris Viewpoint
Gris-Gris beach is at the southernmost point of Mauritius. Gris-Gris is well known for its sea cliffs and offers visitors a magnificent view from the top. Due to the lack of coral reefs surrounding this part of the island, waves crash directly onto the cliffs here. The trail behind the parking lot will lead you through the pine forest where you'll come across several viewpoints where you can as well rest or have a picnic. One of the most spectacular places to visit in Mauritius.
22. Chamarel Waterfalls
The Chamarel waterfall is certainly the most famous and largest waterfall in Mauritius. You can have a clear view of the waterfall from both the lower and upper viewpoints of Black River National Park. Travelers can choose to see the waterfall from the upper deck located on the reserve of Chamarel Seven Coloured Earth. Or, they can head down the trail to enjoy swimming in the shallow water of Chamarel Waterfall.
23. Blue Bay Marine Park
Blue Bay Marine Park is located in the Grand Port district in Mauritius and is the biggest Marine Life and Coral Garden Reserve on the island. Blue Bay Beach is an amazing spot for snorkelling and swimming. Surrounded by Filao trees, the beach has deep, azure waters, sparkling sandy shores, and lively and vibrant people.
24. Le Pouce
Located in the northwest of the island, between Pieter Both and Signal Mountain, Le Pouce Mountain is Mauritius' third highest peak at 812m. It also offers one of the most scenic views of the capital, Port Louis, as well as of Moka and the highlands of Plain Wilhems. You will hike down from the summit, enjoying the magnificent views along the way, until you get back to the starting point at Moka.
25. Eureka House
Eureka House is a unique Creole house built in 1830 and located in Moka. This elegant creole residence originally owned by British and French aristocrats in the 19th century is reputed to be one of the largest houses on the island. It offers an interesting perspective on colonial life. A wonderful garden is also located on the property, surrounded by waterfalls flowing from the Moka River.
26. Blue Penny Museum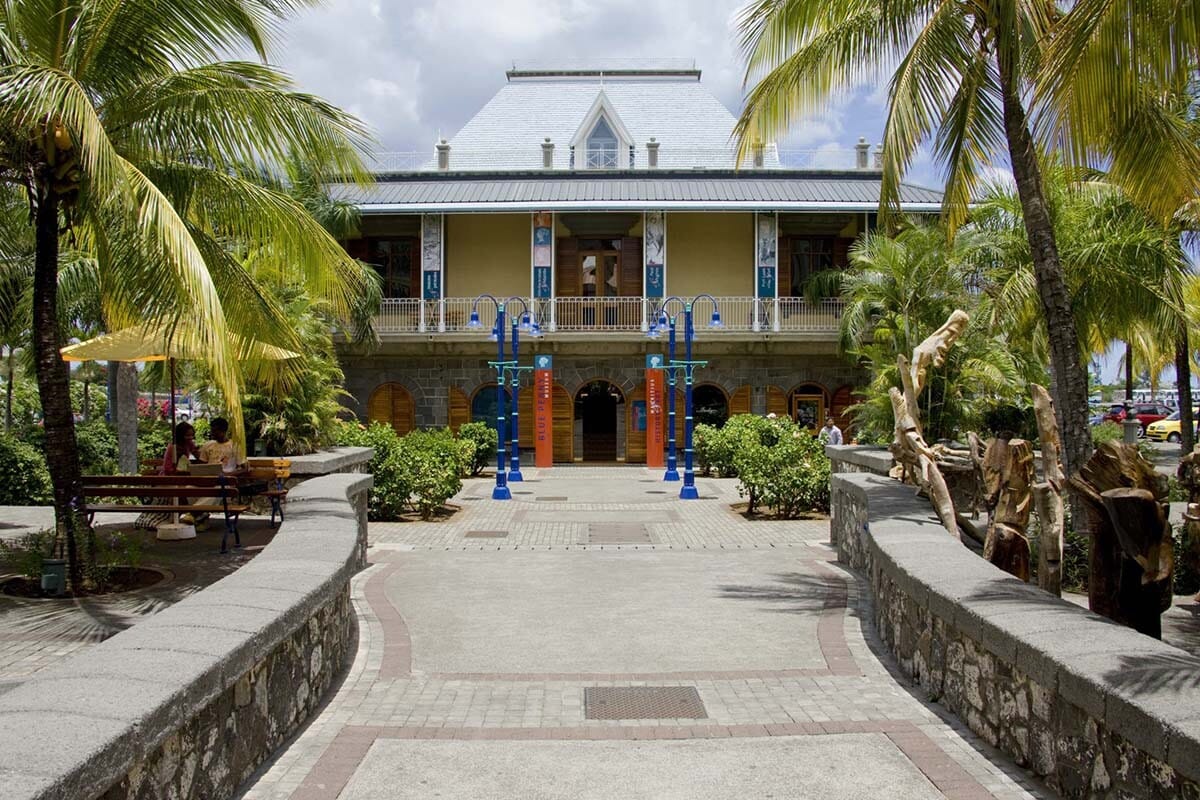 Located in Port Louis, the Capital of Mauritius, The Blue Penny Museum offers you a fascinating journey through the past of Mauritius, its colonial period, and its growth over the years. As part of the Blue Penny Museum collection, you will also find a number of treasures, including old marine maps, paintings, sculptures, stamps, engravings, and old documents that give an insight into the rich history and culture of Mauritius.
27. Light House of Albion
The Albion Lighthouse, also known as the Pointe aux Caves Lighthouse, is a 30-meter-tall structure located on a magnificent cliff edge by the ocean. This iconic symbol of sea travel dates back more than a century. It was completed in 1910. A favourite among photographers, the lighthouse offers a unique photoshoot spot. The Albion Lighthouse is the only fully-operational lighthouse in Mauritius as of today and still offers navigation assistance to ships approaching the coasts of Mauritius.
28. China Town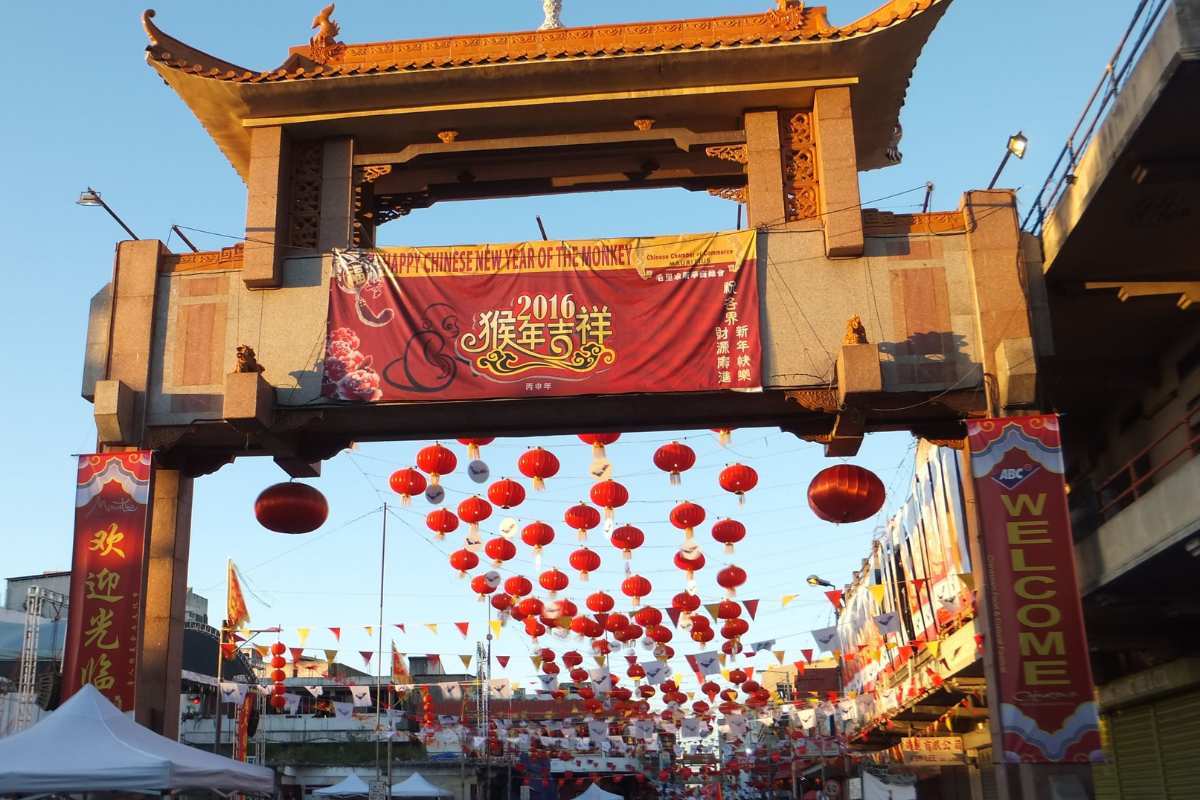 The China Town area runs for about 500 meters along with the renowned 'Rue Royale' in Port Louis. It is considered to be an extremely valuable cultural heritage of Mauritius. It's always busy in Chinatown during the week. The area is well-known for its tasty street food and Chinese cuisine which now forms an integral part of Mauritian culture. There are many dishes enjoyed by all Mauritians that are a specialty of Chinese culture, such as fried noodles, dumplings, chop suey, and Pekin ducks.
29. Grand Bassin
Situated in the southwest district, Ganga Talao is considered to be the most religious place in Mauritius. At the entrance to the Grand Basin, there are two majestic statues: the giant Shiva statue and the statue of Durga Maa. This natural lake is located inside the crater of an extinct volcano. In the month of March or February, when the festival of Maha Shivaratri occurs in Mauritius, many Hindu pilgrims travel on foot to Grand Bassin on foot during this time.
30. Bois Cheri Tea Estate
Enjoy a scenic visit to Bois Chéri, the main tea producer in Mauritius. Bois Chéri is the first tea plantation in Mauritius and dates back to 1892. One of the main sites of the Mauritian Tea Route is the Bois Chéri Estate. Discover the history, stories, and tales of Bois Chéri and the importance of tea production in Mauritius. Catch a glimpse of the breathtaking panoramic view of the south of the island from Bois Chéri while sipping a hot cup of tea.
31. Aapravasi Ghat
Aapravasi Ghat, located on Trou Fanfaron, is the remains of an immigration depot, where the modern indentured labour Diaspora developed. The depot was enlarged in the 1850s and 1860s to accommodate the increasing flow of immigrants. In the period between 1849 and 1910, the Aapravasi Ghat played a pivotal role in the day-to-day functioning of the indentured labour system in Mauritius, as well as in the daily lives of these immigrants and their descendants.
32. Chateau de Labourdonnais
The Château de Labourdonnais was built between 1856 and 1859 and is surrounded by an area of beautiful orchards. The building was eventually restored between 2006 and 2010. It was converted into a museum that allows you to experience the real Mauritian lifestyle and explore the rich history of Mauritian culture during the nineteenth century. It offers products and services such as fruit-transformed products, leisure and events activities, real estate services, rum distillation, and more.
33. L'aventure du sucre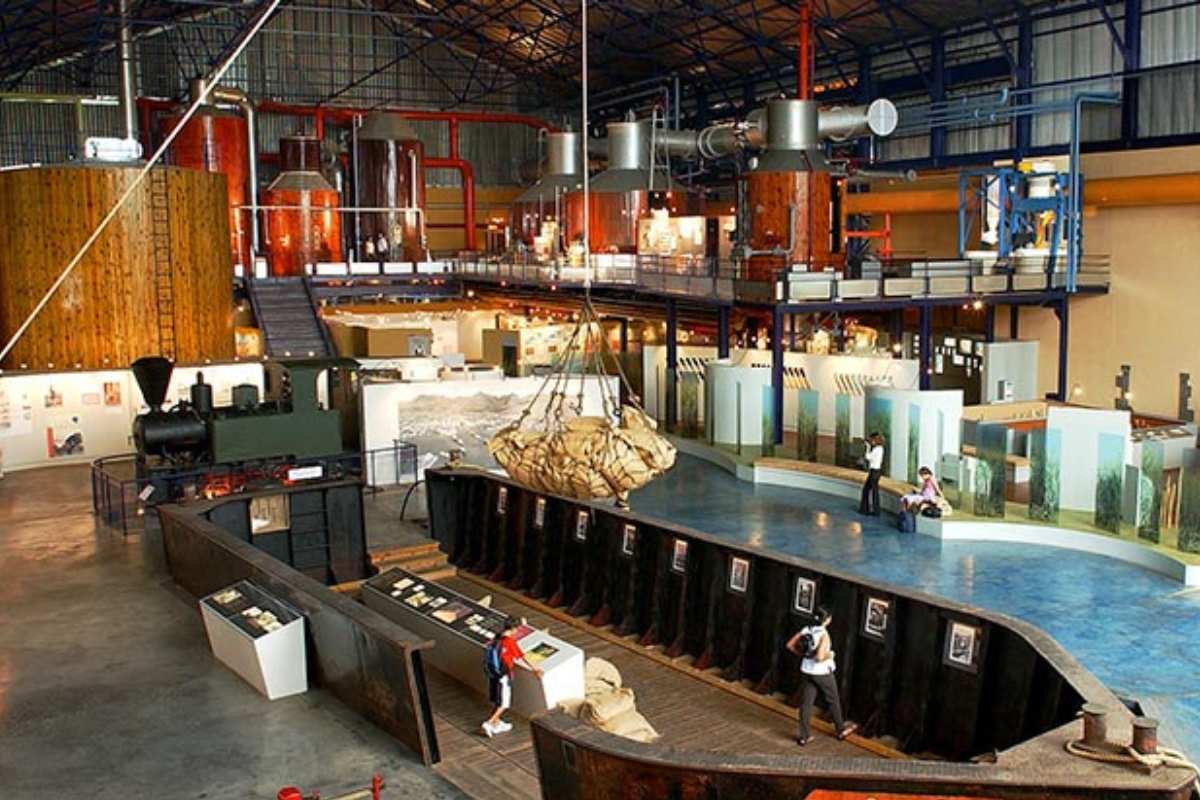 The former Beau Plan sugar factory was founded in 1797 but stopped working in 1999 and was later converted into a museum. Most of the machines still exist, and former workers are available to answer any questions you may have about the factory and the complicated process involved in turning sugar cane into crystals. Additionally, there are interactive displays and quizzes for kids. At the end of the visit, you can try some of the 15 varieties of unrefined sugar, two of which were invented here
34. Champ de Mars Racecourse
Located in Port Louis, the Champs de Mars Racecourse was inaugurated in 1812 by the Mauritius Turf Club. It is the oldest turf club in the Southern Hemisphere and the second oldest worldwide. It is a very popular attraction that enables tourists and horse racing enthusiasts in Mauritius to have the opportunity to enjoy the horse racing events that are held there. Traditionally, the racing season begins at the end of March and runs until the first weekend of December.
35. Port Louis Market
In Mauritius' capital, Port Louis, the Central Market is located in an area known for its mix of local markets and government offices. It is just a few steps away from the harbour, the central bank, and the national assembly. The Victorian-era streets are paved with stone walls, some dating back to 1839. The market was built under British Empire rule in La Corderie Street. In response to the growing number of customers, builders added some stalls and a covered food court.
36. La Croisette Mall
There is no doubt that Grand Bay La Croisette is 'The' Destination for all types of shoppers: those addicted to shopping, careful shoppers, and those who are looking for the right gift. There is something for everyone at the mall, with a full range of shopping experiences available under one roof. Throughout the year, there will be events and sales to please the little ones as well as the big ones.
37. Mahebourg Market
In the Mahebourg Waterfront area, you will be able to visit a large open-air flea market where you can find many cheap goods, local handicrafts, and fantastic souvenirs that are made in Mauritius. The Mahebourg market has a variety of products ranging from traditional Indian and Chinese goods to vegetables, fruits, local spices, electronics, and more. The Mahebourg market also has a section for street food where you will surely find Biryani, Dholl Puri, Chinese Noodles, and many homemade dishes of Mauritius and Creole.
38. Le Craft Market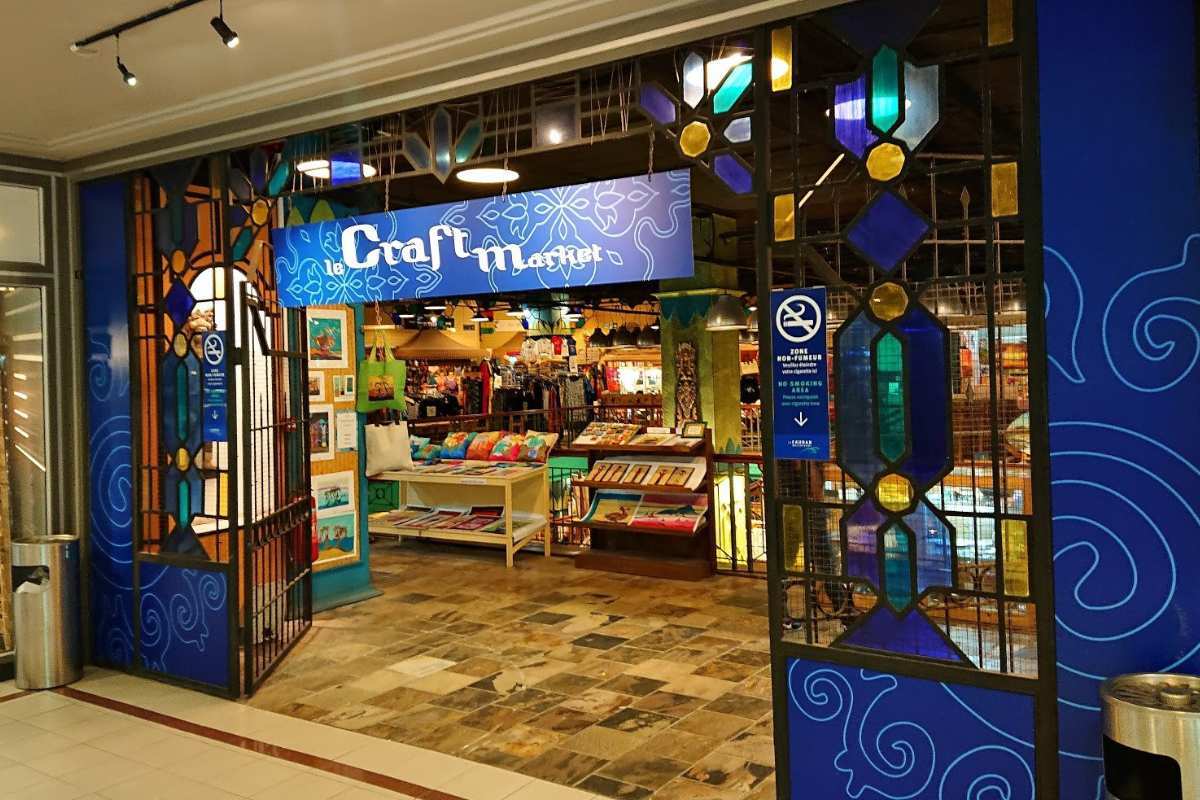 The Craft Market is known for its unique craft collection, within the Caudan Waterfront complex. It is a very large bazaar with 36 stalls. Visitors will find lots of quality products ranging from exquisite woodwork to detailed baskets without forgetting the beautiful glass souvenirs that are on sale. You will also find items made from seashells, boxes of ground spices, embroidered linen, handmade jewelry, and a famous African rag doll dressed in a typical Sega outfit.
39. Quatre Bornes Market
Quatre Bornes Market is renowned for its collection of textiles. You will find everything from clothes, textiles, sportswear, toys, and even kitchen accessories and all at affordable prices. The market is held on Sundays and Thursdays each week. If you are planning on shopping in Mauritius' markets. It is very important that you carry some water and snacks with you when you are street shopping as sometimes it can be very hectic.
40. Flacq Market
The Flacq Market is reputed to be the largest outdoor market. This is a haven for those who enjoy shopping and visiting street markets. If you are planning to visit the Flacq market, it is highly recommended that you visit on Wednesdays and Sundays when all the stalls are open. This last section of the market contains mostly souvenirs and handicrafts made by local artisans, like jewellery, handbags, and baskets. There are a lot of street food options that you can enjoy in the area so make sure you try some.
41. Bagatelle Mall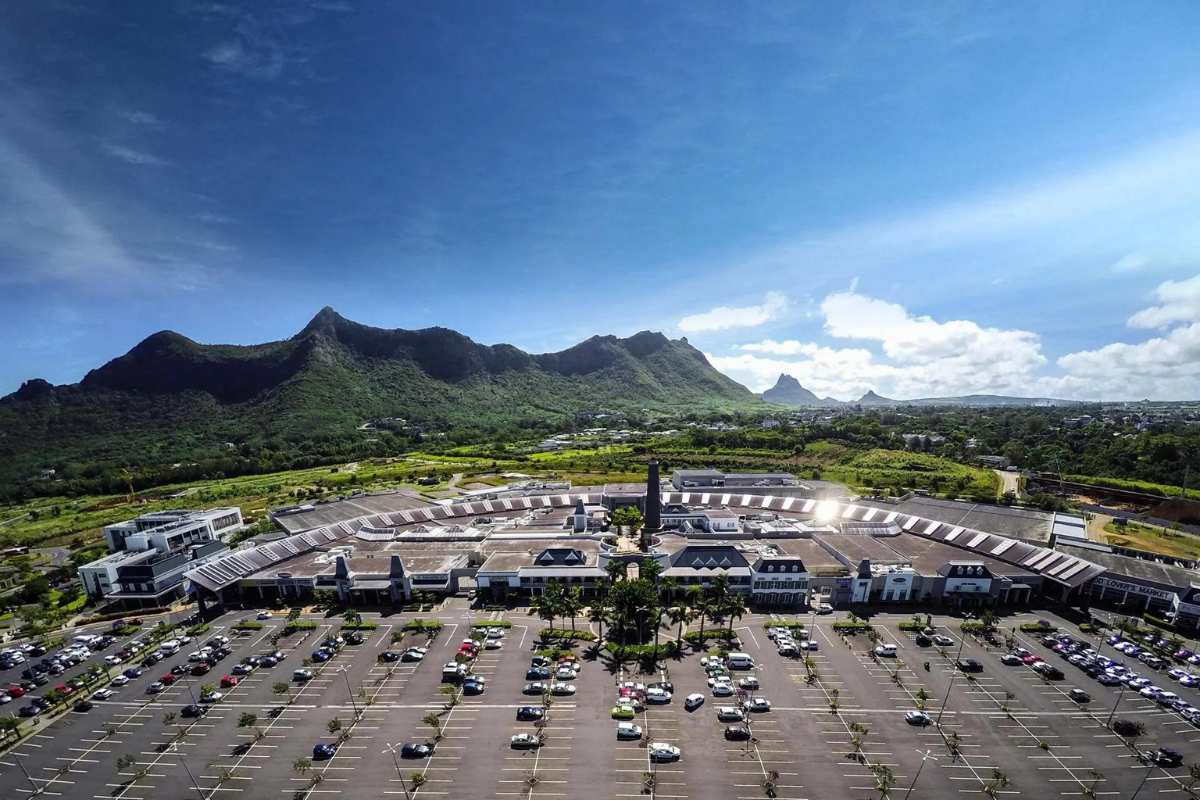 The Bagatelle Mall is regarded as one of the most prominent shopping and retail destinations in Mauritius. Due to the dominant presence of the mall and its broad range of retail and leisure options, it attracts a wide range of shoppers from all over the island. Located in a comfortable and convenient environment, the mall offers a wide variety of the world's most desirable brands, conveniences of shopping, entertainment, and everyday leisure to everyone.
42. Tamarin Beach
Tamarin Beach is located on the west coast of Mauritius near the village of Black River. If you love surfing, then this is one of the most picturesque and beautiful places to visit. It is a pleasant beach for relaxing afternoons with family and friends where you can take a leisurely stroll while enjoying the sunshine or you can just lay around and enjoy the peaceful scenery. A gorgeous backdrop for landscape photography is the surrounding mountains.
43. Citadel fort
Citadel Fort also known as Adelaide Fort offers breathtaking views of the Caudan waterfront and the horizon of the Indian Ocean. This military structure was constructed in the 19th century to protect the British Army and the harbour against enemy attacks and fires that broke out in the city at the time. The fort is also known for its impressive Moorish-style architecture, which features several horseshoe arches throughout the building. It offers a 360-degree view of Port Louis city and the city's isolation in the mountain range that surrounds it.
44. Port Louis Waterfront
Located on the docks of Port-Louis, The Caudan Waterfront is one of the oldest malls built in Mauritius. It includes many high-end boutiques, duty-free shops, a cinema hall, a food court, a shopping mall, a book court, and artisanal stalls and also hosts two top business hotels: Le Labourdonnais and Le Suffren. It is a very lively area and the scenic waterfront enhances its beauty in the morning or at night.
45. Notre Dame Auxiliatrice Church
The Notre Dame Auxiliatrice Chapel is a Roman Catholic church that is considered to be one of the most renowned churches in Mauritius. One of its most notable features is its bright red roof that faces the lagoon and offers some picturesque views of the ocean. The church was built in memory of the shipwrecks that have taken place in the past around this area. Its name comes from Cap Malheureux, which means Cape of Misfortune.
must-see places in mauritius
Featuring incredible and serene pristine beaches, magnificent waterfalls, lush green nature reserves – If you are wondering where is Mauritius found, it is a sparkling crystal in the turquoise waters of the Indian Ocean, will fascinate you with plenty of amazing things to do in Mauritius. Located near the Tropic of Capricorn, the island has a warm tropical climate, which makes it an ideal all-year-round island destination. Other than its pristine beaches, there is plenty of places to visit in Mauritius. Must-see attractions in Mauritius include:
Sightseeing Tours

Catamaran Cruises

Hiking Trips
Top Viewpoints in Mauritius
Nature Parks in Mauritius
Best Beaches in Mauritius
What are the best outdoor activities in Mauritius?
At Taxi Service Mauritius, we strive to offer the best and most affordable activities & tours packages in Mauritius. It features the great Black River Gorges National Park, waterfalls, hiking trails, rainforests, and observing native fauna for nature lovers. We offer sightseeing tours, speedboat trip to Ile aux Cerfs island, and catamaran cruises across the island, combining all of the best places to visit in Mauritius, and exciting activities all packed into one. Whether you want to explore the incredible marine life in the Mauritian waters or discover the famous red church located on the Cap Malheureux beach up north of the island or riding the 1.5 km zipline in Vallee Des Couleurs, we have got you covered.
Mauritius has so much more to offer to tourists. We combine the best places to visit in Mauritius whether you want to spend a full day tour sightseeing the magical South of Mauritius or spend a full-day in the picture-postcard blue lagoon of Ile Aux Cerfs. You have plenty of places to to go in Mauritius that will thrill adults and children alike, perfect if you want to travel with the whole family. From jaw-dropping safari rides in the most magnificent animal preservation enclosure in Casela Nature Park to exhilarating quad biking expeditions fringed by acres of deep green terrain in La Vallee Des Couleurs, you'll never run out of places to visit in Mauritius.
Discover more of our outstanding tour packages in Mauritius at Taxi Service Mauritius today!
Historical Sites in Mauritius
…Mark Twain once wrote, 'Mauritius was made first and then heaven, heaven being copied after Mauritius'.

– He was right 🙂

Best places to shop in Mauritius
Top-rated Restaurants in Mauritius