Book an affordable taxi for your shopping in Mauritius
Mauritius, this gorgeous tropical destination, known for its sublime and unique surroundings, boasts of a large number of shopping centers and markets, which accommodate the needs of all kinds of shoppers. Here is a handy guide to the best shopping places in Mauritius.
Mauritius offers a lot for impulsive as well as planned shoppers. In fact markets and malls in Mauritius combine shopping with entertainment and feasting. The island boasts of a large number of shopping centers and destinations, which accommodate the needs of all kinds of shoppers. Exotic products like perfume oils and souvenir gifts, the markets have got you covered. From spots for budget shopping in Mauritius to the elite malls, here is a handy guide which has it all! Try visiting as many places as you can for a wonderful experience. So, get packed and leave right away!
---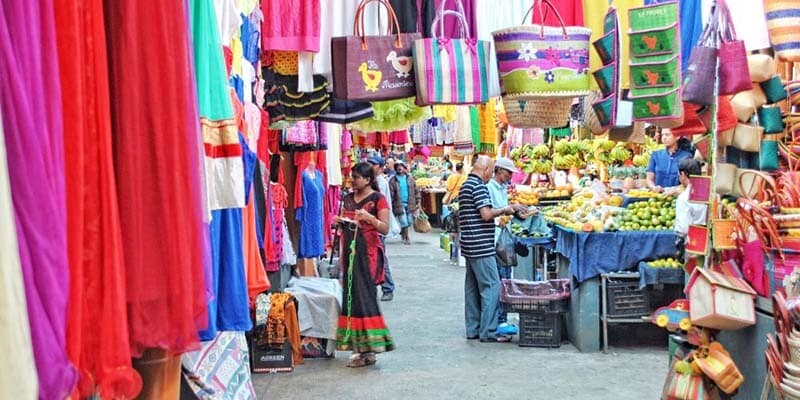 Quatre-Bornes Market is a picturesque, lively market place with a variety of lined stalls. On Thursday and Sunday mornings, merchants propose an array of clothing made in Mauritius, souvenirs, fabrics, accessories, shoes, handcrafted objects, kitchenware and others.
---
2. Port Louis Market
---
The Central Market of Port-Louis (Port Louis Bazaar) is one of the most crowded markets in Mauritius. The Port Louis market offers fresh vegetables, fruits, local products, medicinal plants, souvenirs, local clothing, hats, baskets, wood sculptures, model boats and artisanal jewelry. It is always good to have some bargaining tips!
---
3. Flacq Market
---
Another best shopping area in Mauritius is The Flacq Market which is the largest outdoor market in Mauritius. At the Flacq market, you will find textiles, many local fruit and vegetables, fresh seafood and also Vanilla and herbal tea which are two local specialties of the Flacq region.
Frequently Asked Questions
What are the best places to shop from in Mauritius?
Mauritius offers you some of the most amazing places to shop from such as Bagatelle Mall, Centre Commercial Phoenix, Flic En Flac, Le Craft Market, Curepipe, Bay Bazaar, Floreal Square, Arsenal, Central Market, etc. So, it seems like a shopaholic's dream that has come to life while being on a Mauritius holiday.
What are the famous shopping brands in Mauritius island?
Mauritius allows you to shop for clothing from brands such as Aldo, Armani Jeans, and Celio. Shop from a collection of cane work and other handcrafted products, lighting, home decor, handmade products, etc.
What are the best souvenirs to buy in Mauritius island?
Rum, Tea, The ravanne, Ship Bottles, and tube-sized sample of colored earth from Chamarel are some of the best souvenirs to bring back from Mauritius.
What are the best gifts to buy for family & friends from Mauritius?
You can take handicrafts for your friends and family back home from Mauritius, also the cane work products here are very popular to buy as souvenirs.